If you're about to build something that you've never made before, how do you prefer to learn how to do it?
Listen to someone instruct you?
Look at an example diagram?
Read the instructions?
Or get your hands on and attempt and fail enough times that you finally succeed?
We're all wired pretty differently, and each person reading this article will likely have a different opinion.
Caution for Oversimplified Debates
As a teacher, I'm a bit skeptical of the current debate on which form of instruction is ultimately better for the brain: pictures or words?
To me, this simplification ignores the unique needs of each individual learner. My answer, as a special education teacher, is words for one and pictures for another.
I recently read an interesting post by the Brain Rules blog, which came out very firmly on the picture side of the coin. Their main point is that in studies of memory, people recognize pictures they've seen before with greater accuracy than people remember what they've read.
In support of this assertion, a study cited by Brain Rules found that people, in general, were able to remember 2,500 pictures that they were exposed to, several days after the exposure, with around 90% accuracy. That really is incredible and says much for the visual processing of the brain! However, the test only checked a person's ability to recognize that they had formally seen a picture—not their ability to recreate or describe the picture when it was not in front of them.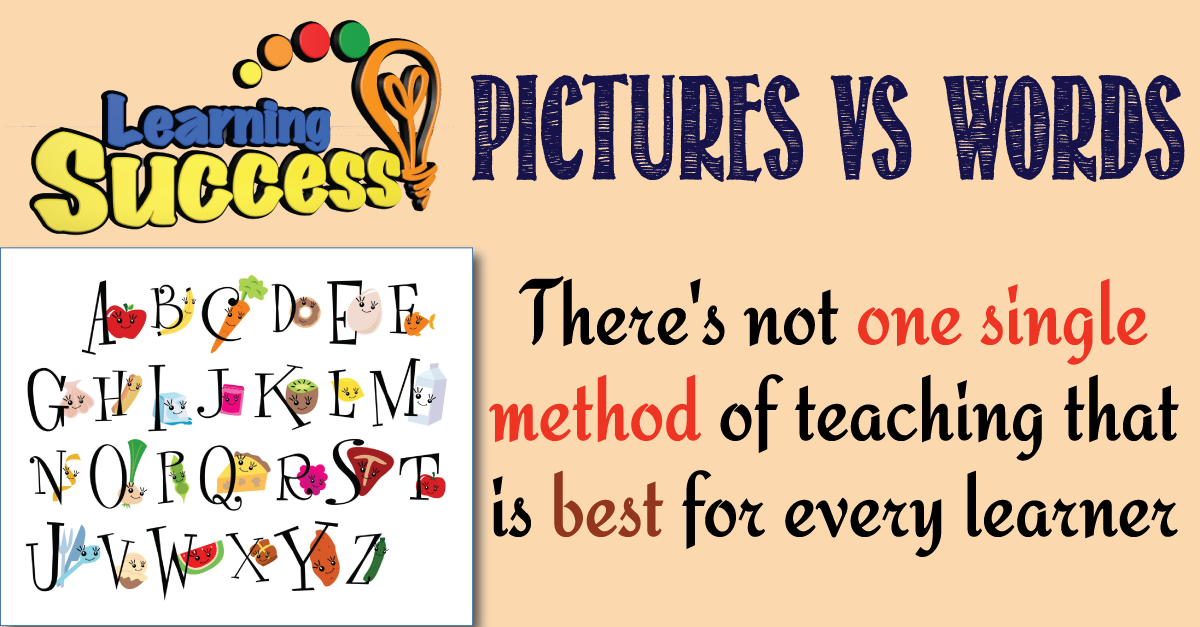 Brain Rules contrastingly pointed out that subjects remember 10% of material presented orally. Though no study was cited, in general verbal memory is tested by asking a subject to repeat back what they've heard. Several days after verbal input, participants usually forget a lot, unless something in the content particularly sparked their interest. Note, however, this is very different than the visual study, where participants only needed to recognize they had, in fact, seen the picture before. A more comparable study would be to play snippets of recordings for the verbal studies and test whether participants can recognize they have, in fact, heard the snippets previously. Google, however, did not help find any such study.
Why did Brain Rules assert pictures were still better than text, therefore (both processed visually)? They suggested that the brain processes each individual letter as a unique picture. That is true in early readers (and possibly individuals with dyslexia), but research has clearly shown that in average readers, the brain forms a unique neural pathway for every single word a person reads (the neural pathway for "cat" is as dissimilar to the neural pathway for "bat" as to "God"). In short, the brain actually processes each whole word as a unique picture, no longer taking in the individual letters (quite opposite to Brain Rules' assertions). That's why, when there is no problem or disorder, we are able to read so quickly.
I personally love visual-spatial diagrams and reading text. Oral directions have always been a nightmare, however. I only learned why when I was 14, sitting in the audiologist's office, and he explains to me that I have an auditory processing disorder and that my brain apparently only recognizes about 80% of the sounds it hears. Oral directions never quite make sense to me, and they always shake my confidence slightly. They make me wonder how much in my day-to-day interactions I'm actually missing if I cannot respond accurately to even the simplest of oral directions. I need written and visual directions.
My mother, on the other hand, can look at a diagram all day long and will gain no meaningful input from it. However, if someone else looking at it simply "translates" the picture into spoken words, she'll have the task done in seconds. She excels in oral learning situations and prefers oral learning to visuals, reading, or even hands-on activities (which she says feel like tests before someone has finished explaining the concept).
While these two examples are anecdotal, our website deals primarily with parents and teachers of children who are the exceptions. No matter what's best for the vast majority of the population, your job is to figure out what's best for your child.
Key Takeaways:
1
There's not one single method of teaching that is best for every learner.
2
Your child's learning style will affect how he/she remember what has been taught.
3
Knowing how your child learns will help you maximize your instruction.