Have you ever gotten on a bicycle then realized that you totally forgot how to ride it?
Yeah, probably not.
Unfortunately, academics are not the same as bicycles. Kids who do nothing over the summer will lose a lot. then they'll end up further behind their peers.
Helping kids advance in learning abilities over the summer is critical to their success
Start the School Year Ahead Of The Game
Do you have a plan to help your child get ahead this summer?. Get One Now!
In academic terms, it's referred to as "regression," and the academic regression that causes the most frustration to students, teachers, and parents is summertime regression. While all students regress some during the summer, this regression hurts students the most who were already behind academically.
Just imagine: it can be so incredibly frustrating for everyone when your child worked so hard to make sense of long division, only to master it beautifully by May, and then to find in August he/she can't remember any of it. Time to start all over again. The tears, the frustration, and maybe even the anger mounts as your child tries to make sense of why he/she can't do this anymore. It doesn't matter that it's fairly normal to forget. The stakes always feel higher to a child with a learning disability and forgetting what he/she once knew certainly doesn't add a lot to your child's self-confidence.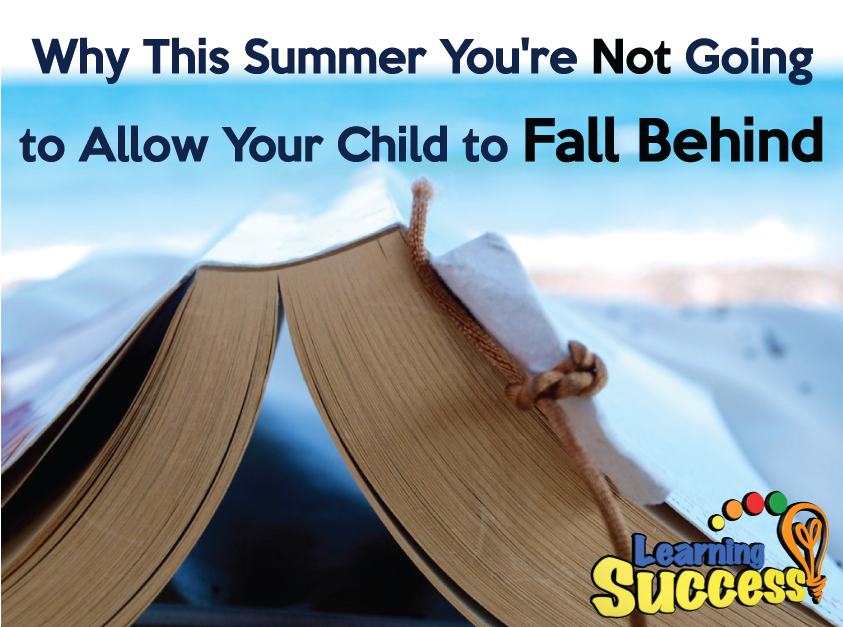 Heavy Losses In Mathematics
In fact, generally, students lose the most skills in mathematics. There might be many reasons for this, but largely it may be because there's no mathematical equivalent to a public library for allowing students leisurely interaction with math in the summer. Students lose on average an equivalent of 2.6 months in mathematical skills every summer!
Reading seems to vary based on income levels (which probably could be better called instead "opportunity levels"). Students in middle-income households, on average, actually make slight gains in reading during the summer! (Again: think public libraries and lots of free time for your child to read what he/she enjoys reading) Low-income students, however, lose close to the same amount in reading as in mathematics with again more the than two months lost. These students' parents may have less time to take them to the library, less education and comfort reading to their children, less disposable income to spend on books, and the least knowledge about why it's important to encourage reading them during the summer. Every summer the gap between the reading abilities of low-income and high-income students increases.
<Clearly, if your child is already behind or has struggled so hard to catch up with his/her peers, you can't afford to simply passively allow the usual summertime regression. You all worked too hard to let it just go by the wayside. Your child's self-esteem deserves better. Your child's academic career requires better.
Thankfully, the school year may be over, but the story of your child's academic successes does not need to be. This summer, even while your child enjoys the extra hours of leisure and summer activities, keep investing the time and energy in to your child's learning to make the next school year less stressful.
How do you keep learning a priority during the summer?
Books – Take your child to the library and don't leave until a book has grabbed his/her attention. Keep exposing your child to the wonderful universe of stories and knowledge that arise from reading. The more your child reads, the more likely your child will actually enter the new academic year ahead in reading of where he/she was at when they left the last school year.

Games – Hiking and swimming are some of my favorite summertime activities, but I'm really grateful for the time my parents spent with me as a child, playing cards (there can be a lot of mathematics in card games) and board games and engaging me in riddles (try these kids riddles here, some silly math riddles here, or more challenging math riddles for your teenage kids). All of these forms of play gave me opportunities (unbeknown to me) to use mathematics and critical thinking I had gained during the school year while increasing my vocabulary and having fun.

Summer Programming – Find out what opportunities exist for camps or other events at the public library, YMCA, community center, local churches, or any other group that you know of. Many of these will have summer programs that, while fun and full of experiential learning (there's definitely a physics lesson in throwing a half-empty water balloon, which therefore doesn't burst), will also include opportunities to keep fresh the more traditional academic skills.

Getting Off the Couch – Whatever you do, don't let this summer be the summer your child memorizes every episode of his/her top 5 favorite TV shows! There's plenty of research linking physical activity to academic success, so while my favorite activities of hiking and swimming as a child, may not have been directly helping me memorize my multiplication tables, it turns out they were probably pretty important too. Hide-and-go-seek and water fights might also have fit that bill as well.

Keeping On Keeping On – Lastly, while it's absolutely true that your child needs to run and play this summer and burn off some of the academic fatigue that builds up during the school year, it may be wise to keep up your regular practice of a few certain skills. Summer time can be a great time to continue or even increase your brain training, as this is usually associated with less stress than traditional academic practice. If you haven't started educational therapy with your child, now is a great time to start, making this the year your child overcomes his/her disability. You may wish to additionally take some specific academic skills, where your child made considerable gains during the year or where your child needs remediation, and concentrate on those. Work on them, but don't stress. Keep summertime a relaxing time, without losing those important skills.
Key Takeaways:
1
Kids can lose a lot of academics every summer.
2
It's not okay when a child with a learning disorder falls further behind any time of year--summer or not.
3
You have to take charge of your child's learning this summer.