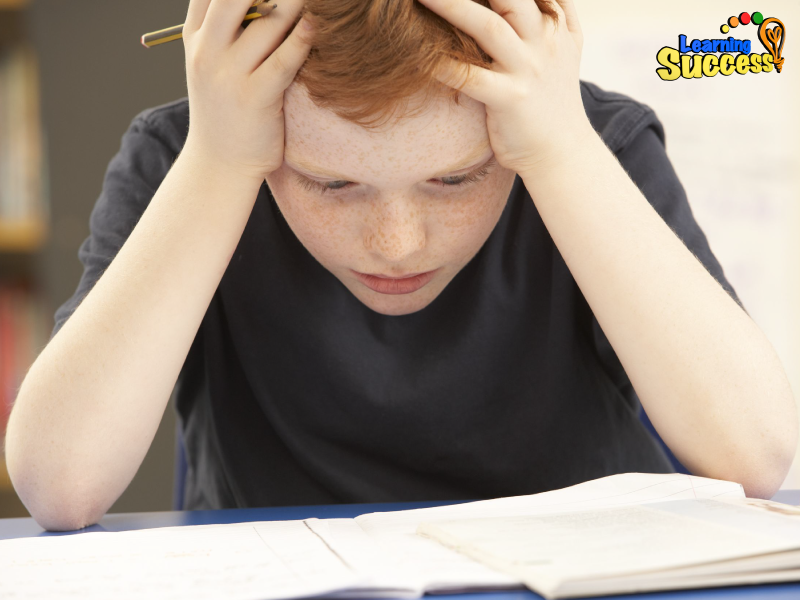 During my years teaching special education in the elementary classroom, I had a very eager yet frustrated student with Dyslexia. She had accepted her struggle with reading but thought as she progressed with her math skills it would be easy for her and she could escape the challenges of Dyslexia.
She excitedly began third grade math, listening tentatively and desperately wanting to be like all of her classmates.
I began teaching multiplication to the class. She was able to keep up during the first few weeks and seemed to enjoy the games and activities we did to re-enforce the memorization. Sure enough, the challenges of Dyslexia reared their ugly head in the form of deficiencies in mental math, verbal memory, and verbal processing speed to the point where she could not remember the time table as we added the number, 6, 7,8, and so on regardless of how she tried.
Dyslexia expresses itself differently in different people. When it affects math it is called dyscalculia.
As with all learning difficulties it is a difference or a weakness in a core component of learning. These weaknesses, with work, can generally be overcome. To help you understand which components may be weak you can take our quick learning difficulties analysis.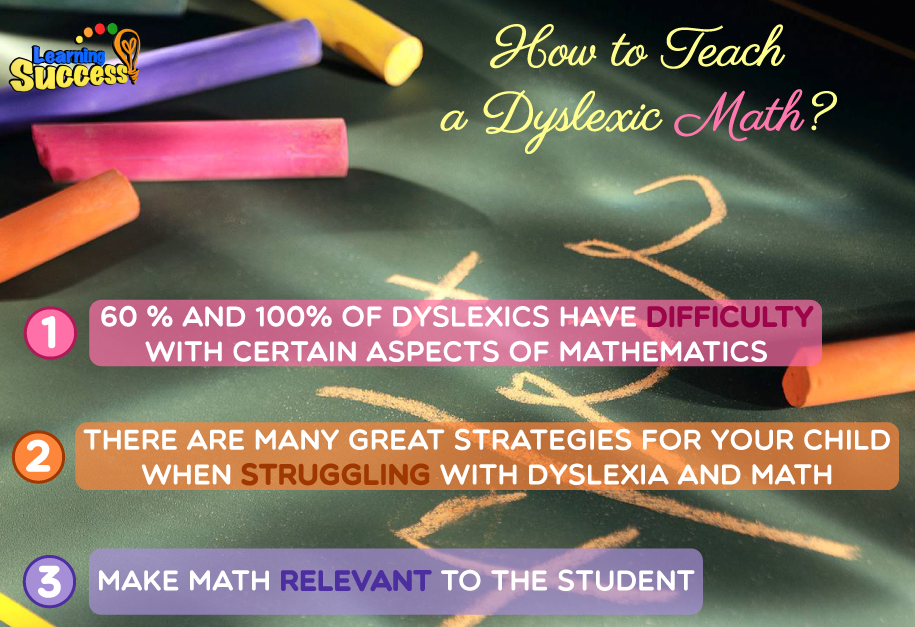 The Effect of Dyslexia on Learning Math
Teaching math to a student with dyslexia requires the same careful planning and implementation as when giving adapted Language Arts education. Between 60 % and 100% of dyslexics have difficulty with certain aspects of mathematics (Miles, 1993 & Joffe, 1990)
As parents and teachers we need to ensure our students with Dyslexia have mastered the fundamental skills of math—addition, subtraction, division, multiplication, number sequence and recognition before moving onto more advanced mathematical theories.
From my experience as a teacher, often times, parents, students, and general education teachers assume dyslexia only affects reading, comprehension, speaking, and writing skills. However, the effects of Dyslexia can infiltrate the way a child learns and uses math to include these concepts: basic numbers, story problems, sequencing, multiplication, and other related math genres.
Here are some key areas to address when working with students. Ways to help enhance their learning experiences can be discovered below:
• Discuss the value of math with your student and show them the consequence of not understanding math concepts. For example: learning to make change from 20 dollar bill or importance of knowing measurements when creating a recipe.
• Create visual aids for students. Better yet, have the child to create visual aids to learn and practice multiplication facts, number lines, etc.
• Incorporate hands on tasks to reinforce their learning
• Check out strategies for example "Gypsy Math" where the student utilizes their fingers to learn the multiplication facts
There are many great strategies for your child when struggling with Dyslexia and Math. The Learning Success Blog has many great resources for the student, parent, and teacher. Also, check out Dyslexia and Mathematics, 2nd addition. Remember there is no "right" approach. From my own experience trial and error is the best course of action.
We would love to hear what works for your student!
Key Takeaways:
1
60 % and 100% of dyslexics have difficulty with certain aspects of mathematics
2
There are many great strategies for your child when struggling with Dyslexia and Math
3
Make Math relevant to the student
Because there is no one size fits all solution we have worked a variety of solutions into the Learning Success System. The system uses a variety of approaches. The brain likes variety. Variety keeps us focused. Variety makes different learning systems work together.
That's why variety is a core component of the Learning Success System. If you'd like a system that uses variety as well as other important principles for overcoming a learning difficulty grab your copy of the Learning Success System.
Do You Need help with a Math Difficulty?
Our simple online analysis will help you get to the core of the problem and find the right solution for you.
Understanding how to help someone with a learning difficulty starts with understanding which micro-skills are affected. When you learn which of the micro-skills is the problem, you will then be on your way to solving it.
You'll also learn how to:
Build confidence
Enhance Learning ability
Eliminate avoidance
Build grit
You can get this analysis for free by filling out this simple form. This will help you get to the bottom of a learning difficulty and provide you with a solution. If you are ready to put this problem behind you click the button below and fill out the form.